Palestine Diary
We were invited to Palestine in 1999 and 2000 to prepare a walking guidebook to for the Palestinian Authority Bethlehem 2000 Project. The visit opened our eyes to the hardships imposed on the Palestinians living in the 'West Bank' and the project was, for us, one of the most rewarding and worthwhile we have been invited to undertake. Sadly Israeli actions following '9.11' have eradicated much of the work and made life even more unbearable for the long suffering Palestinians. A visit is essential to appreciate what is happening and to experience the hospitality and warm friendship of the Palestinian people.
We returned in April 2004 to find much of the Nativity Trail either closed, inaccessible or about to be cut in numerous places by the nightmare of the Israeli 'Wall'. See Tony's articles in Adventure Travel, July 2004 and JO Mag (Jordan) Aug 2004 for further info. Check out stop the wall .
Nativity Trail and Walks in Palestine
"People should be encouraged to walk in the hills. It will increase their attachment to their country"
Raja Shehadah, Author, Palestinian Walks. (A wonderful book.)
Our book to The Nativity Trail and Walks in Palestine was published March 2002 by Cicerone Press. William Dalrymple, author of 'From the Holy Mountain' described it as "A fantastic book". See Publications.
Disappearing Palestine
The maps below show the horrendous loss of Palestinian land and the system of apartheid created by the Israeli occupation - click on the image to open it in a new window. Two interesting letters on the Jan 2002 highlight the Palestinian situation from a leading Israeli and Palestinian - see sidebar.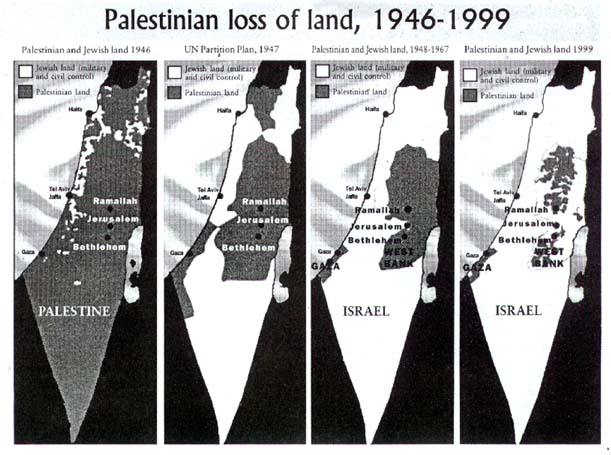 For latest news on the Israeli occupation and other Middle East info, see: The Palestine Chronicle and The Electronic Intifada, also Al Jazeera Middle East News.

April 2004 We returned to see how the people were surviving under the undoubted increased Israeli oppression. In Hebron we were put under house arrest with a Palestinian family, simply for visiting them for tea. Their neighbour's young son had been shot through the window by settlers. On the hills above the town, a Palestinian farmer showed us his vines - planted by his great grandfather and destroyed the day before our visit by settlers who now live on what used to be his land. His son's house had also been destroyed earlier.
In the north, we were refused entry to Nablus. Armed teenage settlers were terrorising the village of Yannun where we had stayed overnight when on the Nativity Trail. Jericho - another overnight stop on the Trail - is ringed by fences and moats with only one way in - if you are lucky. The Israeli Wall, which has already cut off many West Bank villages from their land, schools and hospitals is likely to cut the Trail in numerous places, making it impossible. It's a nightmare and was declared illegal by the International Court in The Hague, July 2004.
Nov 2008 David Landis emailed to say "Spent four days this week walking a revised portion of the Nativity Trail with help of George Rishmawi and others involved in the project.  The route has been affected by increased settlement growth since your book was released and some of the routes are no longer possible because of altered geography (walls, roads, etc...) or risking confrontation in certain areas.  We hope to record a passable route on GPS which can be converted to Google Earth files and for individuals and groups to reference as they consider hiking in Palestine. I've been working for the past year with the development of the Jesus Trail, and am currently writing a guidebook for this trail and general hiking in the Galilee with Anna Dintaman who was also on the Nativity Trail hike.
Your book from 2001 on Walks in Palestine can still be found in bookstores here and people use it for small hikes and general reference for walking in the region.  We feel it is one of the best books in hiking in Israel and Palestine that we have been able to find." 

Dec 2008 BBC News correspondent Aleem Maqbool contacted us to say "Thanks for your help (your Palestine book is beside me as I write!). The plan is to walk [the Nativity Trail] and arrive in Bethlehem on Christmas Eve. My route differs a little from the one in your book... am aiming for as close to a straight line as I can get... though anticipate certain obstacles!"

Jan 2009 If you want to know more about Gaza, check out Free Gaza and here's a message from the resultant 2009 Palestine Solidarity Campaign: "They stole my land, burnt my olive trees, destroyed my house, took my water, imprisoned my father, killed my mother, starved us all, humiliated us all. But I am to blame: I shot a rocket back. So they stole more of my land, burnt my olive trees, destroyed my house, took my water, bombed my country..."
2011 The Bethlehem Visitor Centre opened. See their facebook page and vicbethlehem
2014 The Israeli occupation of Gaza gets worse... in addition to the above links, also check out the Electronic Intifada
2015 Some good news there is now a climbing wall in Palestine, also see Climbing in Palestine
2016 The Siraj Centre have launched a new online booking system for walking and biking trips
Other useful websites