Morocco Bald Ibis Project
Royal Society for the Protection of Birds - Press Release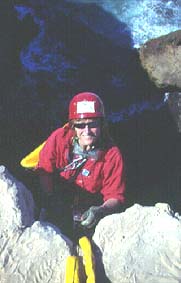 Di Taylor working starting the almost 200m abseil down the overhanging cliff.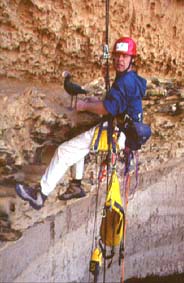 Mick Shaw (and his bird!)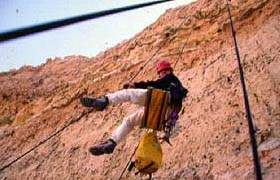 Mick Shaw descends the cliff to the nesting site.


In November 1983, climbers from the British Mountaineering Council and Troll volunteered their skills and equipment in collaboration with the RSPB (UK partner of Birdlife International) and the Moroccan National Parks, to create new nesting ledges for the critically endangered Northern Bald Ibis in Morocco. Only sixty pairs of this species still remain in the wild but, despite difficult and dangerous work on an overhanging and loose sea cliff, the project, headed by Troll's Andy Perkins, proved extremely successful and eight pairs of Ibis are now using the modified ledges.
In January 2000, Tony Howard and Di Taylor, both members of the Troll climbing team, and proprietors of n.o.m.a.d.s. adventure travel consultancy (New Opportunities for Mountaineering, Adventure and Desert Sports) were joined by Mick Shaw (of Rimmon Construction) to carry out another project further along on a huge, sandy and disintegrating cliff. The purpose of their visit was to fit model birds on another possible nesting ledge, to attract the Ibis to this additional site and thereby aid their recovery.
Whilst all three are well versed in climbing techniques, Mick is particularly qualified for this project, being not only a rope-access worker, but also perhaps the UK's only expert in fitting model birds in difficult locations. Mick has the contract for fitting and maintaining the model birds that decorate the window-ledges, walls and roofs of Manchester's northern quarter. The unusual work of 'putting pot parrots on parapets' is part of a scheme to revitalise the city centre whilst maintaining links with the city's heritage. (This part of the city was once full of pet shops selling exotic birds brought back by seamen returning up the Manchester ship canal from all parts of the world).
Equipment for the project was provided courtesy of Troll, whilst Mick, Tony and Di who have climbed extensively throughout North Africa provided their services free of charge. Following this project they explored the sea cliffs further south for climbing and bouldering potential, and climbed at Tafraout where Tony had first climbed in the winter of 1962-3.