Jordan Diary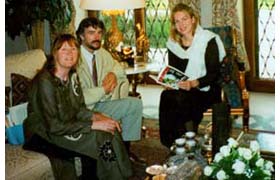 Jordan has to be our favourite Middle East Country: small enough to get around with ease, wonderfully friendly people and a haven of peace despite frequent turmoil in neighbouring countries. We have been every year since we first discovered Wadi Rum, it's climbing potential and it's hospitable Bedouin people in 1984.
Jordan also has a wealth of human history going back millennia: ancient man, Nabataeans, Greeks, Romans, Crusaders, Circassian and other refugees from Soviet Russia and Turkey a hundred years ago, and of course many Palestinians and our old friends the Bedouin extolled by 'Lawrence of Arabia'.
In additional to unique archaeological sites, it also offers a surprisingly varied terrain for adventure tourism: the forested hills of the north, the great gashes of the canyons leading to the Dead Sea - the lowest point on earth, the wild hills and valleys around Dana and Petra, the stunning, colourful mountains and desert of Rum and the coastal resort of Aqaba with its excellent diving in the Red Sea.
That's the good news. Not so good is that the Entry Visa price just doubled on April 1 2014 to 40JD (approx £35) which, together with the astronomical Day Ticket for Petra at 50JD makes Jordan a very expensive country to visit. Luckily the hummus is cheap and we still have the freedom of the hills.
Guidebooks to Jordan by n.o.m.a.d.s.
See Publications for full info.
All above books by Tony Howard and Di Taylor. We also contributed the original trekking notes for the Rough Guide to Jordan as well as info for the Lonely Planet and Dorling Kindersley guides.
The following article covers much of our climbing and trekking explorations in Jordan including the Jordan Trail.
Trekking and climbing areas, North to South
Check out Jordan Rock climbing on Facebook
Al Ayoun & The Northern Hills
Almost all the walks and treks are on the hills above the Jordan Valley which, even here over 300km north of Aqaba, is still below sea level! Beautiful one to 7 day treks between historical sites such as Greek Um Qais and Pella and on to Al Ayoun villages and the Islamic castle of Ajlun at 1000m. There are also a few single pitch climbs on good quality Mediterranean style limestone and a couple of caves have been found. There is an RSCN Nature Reserve near Ajlun. Others are being opened in the Jordan Valley and Yarmuk areas.
Dead Sea Hills
Excellent canyoning and canyon treks above the Dead Sea, From Madaba just south of Amman all the way to Wadi Hasa just south of Kerak, including the Mujib Reserve of the RSCN (permission required). Some parts of the Reserve are permanently closed as Protected Areas (despite what others may tell you).
Tafileh, Dana & Petra Area
Still much to be explored south of Wadi Hasa and west of Taflileh, but south of there through the Shara Mountains from Dana to Petra and on south to Mas'uda and Roman Humeimah there are some good canyons and it's a great trekking area with routes from one day to one week. Again, some parts of Dana RSCN Reserve are closed and permission is required to trek there. There is some climbing near both Dana and Petra and trekking guides are available in both areas. Beyond is:
Wadi Rum
Rum (and much of Jordan) was initially explored by us and our friends annually from 1984 onwards. It is now known as "one of the world's best desert climbing areas", and there are around 500 rock climbs at all grades from single pitch (trad and sport) to muliti-pitch big walls and superb mountain traverses following world famous:

Wadi Rum climbing history and Bedouin Hunting Routes, "amongst the world's best mountain adventures". Here are two articles by Tony:
Bedouin_Hunting_Routes_of_Rum_part_1_by_Tony_Howard.pdf
Bedouin_Hunting_Routes_of_Rum_part_2_by_Tony_Howard.pdf
The Aqaba mountains
The road to Aqaba winds down between these harsh-looking mountains, but there are a few treks through their canyons, as well as some scrambles to the main tops (mostly done by our friend Brian Hodgkinson). The treks include the last day of The Jordan Trail. It's a nice route through a part of Jordan never before visited by outsiders. All these mountains would be worth a closer look, but it's hot down there, so winter months are best.
Other Info
For info relevant to travel in Jordan and Wadi Rum see:Jordan Jubilee , Jordan Tourism and check out Mathew Teller's blog (Mathew is the author of Rough Guide to Jordan). Also see Climbing Jordan, The Desert Guides and Lizard Life for climbing and other info, and Itai Haviv's book to Trekking and Canyoning in the Jordanian Dead Sea Rift.
Final Words
"Queen Rania joins me in conveying to you both our thanks...Your support in introducing adventure tourism in Jordan is greatly appreciated. Wishing you continued progress and prosperity with your work, please accept my best regards"
HM King Abdullah II ibn Al Hussein
"You are doing a great job which is very much appreciated by all of us. Thanks a million."
H. E. Maha Khatib, Minister of Tourism, Jordan.

"You guys are the best thing that happened to 9 million Jordanians and they don't know it but I do. Thank you from me, my wife and the Jordanian outdoor guys, even the ones that don't know of you yet."
Hakim Tamimi, Jordan Tourism Board
"Your footprints established tourism destinations in Jordan from almost zero. Jordan is blessed to have such dedicated professional persons."
Ramez Habash, Abraham Path Initiative
"Jordan is very lucky to have people like you."
Ghassan R. Nasser, ASEZA, Aqaba Special Economic Zone Authority
"We as small adventure community, would like to thank Tony Howard and Di Taylor for their great efforts making our country an adventure destination on the world adventure map since 1980's."
Murad Arslan, Jordan Hiking Society
"Thanks for everything you have both done for Jordan.YOU are truly amazing. You have inspired and delighted everyone who met you and spent time with you. Love you truly and dearly"
H. E. Lina Annab, Minister of Tourism, Jordan, 2017