Publications - Jordan - Walks, Treks, Caves, Climbs & Canyons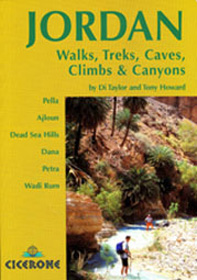 Jordan - Walks, Treks, Caves, Climbs and Canyons
1st edition, 2000. 2nd edition, 2008 Cicerone Press

The authors have been climbing and trekking in the mountains of North Africa and the Middle East for well over 30 years. They were responsible for discovery in 1984 of Wadi Rum in south Jordan as a climbing and trekking area and wrote the guidebooks to that area. Since then they have returned to Jordan every year, always managing to find some time to explore other parts of the country between world famous sites of antiquity such as Petra, Pella, Ajlun and Kerak. They were also invited to document the superlative routes to be found in Jordan's recently formed Nature Reserves, in particular the mountains and canyons of Dana and Mujib and once again in their favourite desert area of Wadi Rum which was declared a Special regulations Area (National Park) in 1998, a status they had long fought for, in support of the local Bedouin people.
It is rare a book of this nature to describe such a wealth of previously unknown and varied terrain, but their discoveries reveal an unexpected land of forested hills, beautiful dales carpeted in flowers, huge canyons sometimes with fast-flowing rivers, recently discovered caves, perfect limestone cliffs in wooded valleys as well as granite, basalt and conglomerate cliffs and high mountains with lunar landscapes.
This book not only gives descriptions to over 150 routes, almost all previously unknown, but also new climbing areas outside Wadi Rum. It also indicates many still unexplored areas for those who wish to make their own discoveries, and gives information on how to get there, when to go, what to take and everything you need to known about the routes. In so doing, it offers you opportunity to see and experience a country of great antiquity and previously unsuspected remarkable beauty, making a plea to respect the land and its people, both largely unspoilt by tourism.
"The book is great. Jordan owes you tons!"
Tarek abul Hawa, RSCN
"After my first visit to Jordan, Tony Howard told me to beware, that Jordan has the ability to get under your skin. He warned me that I'd have to return time and time again. I now know what he meant."
Cameron Mc Neish, Editor The Great Outdoors and Tour Leader for KE Adventure Travel, in his article 'Dana to Petra', Aug 2010

In spring 1999 I bought a copy of "Jordan - walks, treks, caves, climbs and canyons" in a Danish bookstore. It looked so fantastic, that a couple of friends and I packed some basic climbing gear and went to Jordan. We had a fantastic week and did the Zubia Cave (which was a great adventure - even just to find it), Mujib Siq, Sami's Cliffs and more. We had all done some adventure traveling in Europa, Asia, Central America and Africa, but agreed that this Jordan trip was one of the best any of us had ever done, thanks to the information in your book. Thanks a lot for the best guidebook I have ever seen and which was an inspiration for one of my best trips ever."
Poul Bjerregaard, Denmark
                    
Foreword by H.M. Queen Noor of Jordan
I have watched with vicarious pleasure over the past 15 years, as Tony Howard and Diana Taylor have been trekking, climbing and leading safaris in the deserts of Wadi Rum. More recently, they have spread their explorations to other areas of Jordan. They have taken others with them, but their love of the land and landscape is such that they wanted to share it with a much wider audience. The result is this book, the first to present to the world the walks and other adventures to be had in the little known but infinitely varied scenery of our land. I am sure that connoisseurs of travel from all corners of the globe and many Jordanians as well will find this book fascinating.
In these pages, you will discover travels to suit every taste: gentle walks amongst ancient 'Roman' olive groves, and rambles over dales as green and beautiful as any in England, or down valleys that rival the Swiss Alps in their kaleidoscope of spring flowers. There are walks through canyons as impressive as the world-renowned Siq of Petra, but previously only known to the Bedouin people, or treks, camel and horse rides, even four wheel drive journeys along the ancient Caravan Routes used for bringing incense and spices from Arabia.
If you have the skills, you can descend into the recently discovered cave of Zubia hidden in the oak forests of the north, or the dark chasm of the Mujib Siq in the mountains of Moab, abseiling through waterfalls to the Dead Sea four hundred metres below sea level. In the south in Wadi Rum, you can climb to the spectacular Rock Bridge of Burdah, brought to the world's attention by the authors after their Bedouin friends showed it to them back in 1984. You can even make the ascent of Jebel Rum following a route up the rock more than 2,000 years old, or scramble to the summit of the highest mountain in Jordan, Jebel um Adaami, in a remote part of the desert near Saudi Arabia. And in the quiet and wild mountains, canyons and valleys around Petra the experienced trekker can discover true wilderness.
As Patron of the Royal Society for the Conservation of Nature, I am particularly pleased that the authors have included walks and treks in the beautiful Dana and Mujib and other Nature Reserves in this book, helping to support these precious but little known areas, while introducing them to the outside world. In Wadi Rum, too, their efforts have been directed toward benefiting the local people and encouraging them in their effort to protect the desert and mountain habitat for future generations. The thoughtful Introductory notes on environmental and cultural awareness are especially relevant in these areas, but are useful throughout the country.
This book demonstrates that ours is a land well worth discovering, where you will find a wealth of natural beauty and warmth of welcome rare in this day and age. I am pleased to add my welcome to Jordan and to wish you a safe and pleasant journey as you explore our ancient trails and scenic wonders - even if you never leave your chair.