Publications - Walks, Treks, Climbs & Caves, Al Ayoun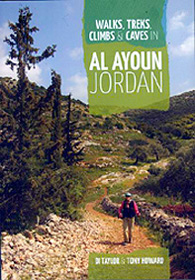 Publication: Jan 2012. Vertebrate Publishing, UK.

"It's brilliant - you've done an outstanding job (as always!). Couldn't be better."
Matthew Teller, author of the Jordan Rough Guide. Also see Mathew's blog on this book.

"I am delighted that your guidebook for Al Ayoun will at last see the light of day -- it will be a real service for the community and for world travelers too."
Dr. William Ury, Co-Founder of the Global Negotiation Initiative and a key leader in the Abraham's Path.

And from Deborah King, author, artist, environmentalist and a contributor to the book:
"You must be absolutely thrilled. The design/production is excellent. I confess I've never been to the Middle East but Al Ayoun looks absolutely stunning. And I love the quotes you have chosen for the preface to some of the chapters. I am honoured to be included in such good company. I imagine you will receive some excellent reviews. Thank you again for involving me in such an exciting project."

Thanks we would like to particularly thank Fadi Ghandour CEO of Aramex for sponsoring the book in conjunction with the Al Ayoun Community, and Jane Taylor for overseeing its production in Jordan, not just with the printers (Jordan's National Press) but with the UK Publisher, Vertebrate, when the printers had queries, and with the Al Ayoun team and the book distributor (Mazen) as well as "our man in Jordan", Mark Khano. None of this would have happened without them.

The book describes walks, treks, caves and climbs in the district of Al Ayoun just north of the great castle of Ajloun in North Jordan. It is a region with it's own uniquely beautiful forested valleys, flower-covered springtime meadows, orchards, olive groves and sites of antiquity dating back into prehistoric times. Al Ayoun is in beautiful limestone country with walks and treks to cater for all abilities. There is also caving here, including a recently discovered pothole, and new climbs on cliffs that have only just been discovered. All this combined with Jordan's famous hospitality exemplified by the people of Al Ayoun who welcome you to their villages, their home-stays, their unsurpassable local food, and to the Ayoun Trail and associated routes in this guide. Within its pages you will find all there is to know about adventures in Al Ayoun, one of the most beautiful and verdant regions in the Kingdom, where the local people live a quiet rural life, tolerant and understanding of other religions and customs and always with a warm welcome for visitors.

Since we first visited Jordan in 1984, discovering the climbing and trekking potential of Wadi Rum, Jordan has continued to play a major role in our lives; the warm welcome, the hot sun, and the promise of new areas to explore are always irresistible after a grey English winter. It was therefore with real pleasure that we received an invite from Daniel Adamson of The Abraham Path project to join him in Al Ayoun, now one of our favourite parts of the kingdom, especially in spring, to help develop the area for the benefit of the local community by searching out new treks and climbs. For us, meeting and spending time with the people of Al Ayoun was a wonderful experience and we hope that the routes described in this book, will attract others to visit this uniquely beautiful rural area. We certainly recommend it – maybe we will see you there, as we continue to return every spring.