Publications - Troll Wall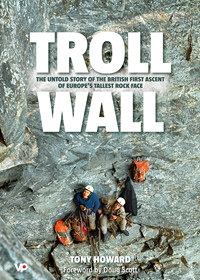 Available directly from Vertebrate Publishing
The untold story of the British first ascent of Europe's tallest rock face.

'One of the greatest ever achievements by British rock climbers.'
Joe Brown CBE
Winner - Jury's Special Award – Norwegian Mountain Literature Prize, 2012
Winner - 'ITAS' Mountain Book Award - Mountain Festival, Trento, Italy, 2013
Second prize 'Leggimontagna' Literary Award -  Mountain Festival, Tolmezzo, Italy, 2014
Norway, 1965. A team of young climbers from the north of England camp at the bottom of the tallest vertical rock face in Europe – the Troll Wall. No one has dared attempt this gigantic challenge before. Some say it will never be climbed. This will be the adventure of a lifetime.

Rain and snow soak them as they climb. Avalanches and loose rock threaten their lives. A Norwegian team arrives to compete for the glory as the world's media look on. Pushed to the limits of exhaustion, the team spends days on the wall, refusing to give in, even when failure seems certain.

Troll Wall tells the gripping story of one of the most dramatic first ascents in British climbing history. Written days after their success, almost half a century ago, and newly rediscovered, Tony Howard's account is a fascinating insight into the challenges of climbing a big mountain wall.

See more from the publisher, Vertebrate, also a review in right hand column of the Publications page from Jim Perrin and a link to Andy Kirkpatrick's review for the Alpine Club.