Publications - Walks in Palestine & The Nativity Trail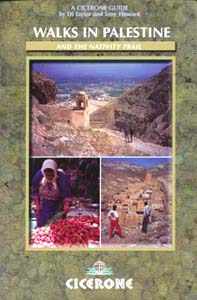 "A fantastic book."
May 2002. William Dalrymple.

This guide was a Bethlehem 2000 Project for the Palestinian Authority to introduce walkers to this ancient land and its people.

The 10-day Trail passes through all aspects of Palestinian life - urban, rural, mountain and desert, over-nighting in Palestinian villages, monasteries, Islamic shrines and Bedouin camps. Other walks visit pre-historic caves, Biblical sites such as the Mount of Olives and Via Dolorosa, or pass through olive groves, desert wilderness and rocky hills. Maps and descriptions cover 35 routes from one hour to ten days, with Biblical and historical information, and notes on environment, politics, how to get there, what to see and where to stay. It not only guarantees some great days on the hills, but also a unique insight into the lives of Palestinians in today's Holy Land and an opportunity to experience the warmth of their welcome.
Publication: March 2002. Cicerone Press, Milnthorpe, Cumbria.

"There is no better way to get to know a country than to walk through it on foot. Picking up your pack and setting off with a copy of 'Walks in Palestine' is the best possible way to understand this beautiful and troubled land- and no country needs and deserves understanding more than Palestine, for few countries have been so systematically misrepresented. Set off with this book and an open mind, and you cannot go far wrong."
Back cover review. William Dalrymple, author 'From the Holy Mountain', etc.

"I am happy to learn that everything regarding the print/launch of the book is on track. All involved have been doing a wonderful job, especially the authors who deserve a special credit indeed for their hard work and for being so cooperative and understanding."
Nov 2001. Dr Nabeel Kassis, Minister & Co-ordinator General, Bethlehem 2000. Palestinian National Authority

"I have just been through your final version of the Palestine guide and I wanted to tell you what great job you have done with a very difficult subject. It reads very well, makes your points without a big fuss and communicates the land/people as I believe you would like to."
Nov 2001. Jonathan Williams, Cicerone Press.

"I am really impressed. It is a beautiful work with great illustrations, photos and text. You should be proud. With the situation in Palestine at the moment is difficult, but it was important to produce it. It was the right decision at the time and we have a newly created narrative that is part of the concept of Palestine which Israel is trying wipe out. Despite all that Sharon is doing there is much positive change for the Palestinians in the world and the resistance is continuing. As long as there is resistance there is hope."
April 2002. Mark Khano. Guiding Star.

"President Arafat, was very happy to see another of the achievements of Bethlehem 2000 (Nativity Trail) become the subject of a quality guidebook."
Aug 2002. Dr Nabeel Kassis Minister of Tourism for Palestine, 2002. (Previously Minister of Bethlehem 2000 Palestinian Authority Project).

July 2004. A note from us:
We were in Palestine again in April 2004. The situation is worse than ever. The prison of the Israeli Wall has to be seen to be believed and is likely to cut the Nativity Trail in numerous places. Villages along the trail are under threat. However some walks are still open - we walked some in the south (Wadi Qelt etc) and the book still gives a valuable insight into Palestinian life. Go to Palestine and see for yourself what is happening in the 21st century ...

Nov 2008. David Landis emailed to say "Spent four days this week walking a revised portion of the Nativity Trail with help of George Rishmawi and others involved in the project.  The route has been affected by increased settlement growth since your book was released and some of the routes are no longer possible because of altered geography (walls, roads, etc...) or risking confrontation in certain areas.  We hope to record a passable route on GPS which can be converted to Google Earth files and for individuals and groups to reference as they consider hiking in Palestine. Your book on Walks in Palestine can still be found in bookstores here in the West Bank and people use it for small hikes and general reference for walking in the region.  We feel it is one of the best books in hiking in Israel and Palestine that we have been able to find."
2014. People are still using the guide for short walks and even two or three day sections of the trail, particularly in the south of the route. The walking is good and being there allows you to experience so much of life in the 'West Bank'.